Kismet Swissies Breeders of GSMD
Joe & Carol Neuman welcomes you to Kismet Kennels web site.

Address:

Kismet Swissies
Joe and Carol Neuman
518 Buck Hollow Road
Birdsboro, Pa. 19508  

E-MAIL: Kismetswissies@aol.com

Phone Number: 610-582-5234

 LOCATED: 5 miles North of Pa. Turnpike exit 298 (Morgantown) 1.2 miles off Route 10 North on Buck Hollow Road.  



 
                                               WE HAVE A CONFIRMED PREGNANCY
SLIVER LEVEL GCH CH KISMET'S FIRE DANCER AND GOLD LEVEL GCH CH OLIVER TWIST OF FATE.
PUPS ARE DUE ON APRIL 30 2021 
If you have an application on file with us, Please send us an E-MAIL Kismetswissies@aol.com letting us know if you are still interested.  If you have not filled out an application on file with us, Now is the time to file one from our website WWW. Kismetswissies. com
All pups come with all shots, worming's up to date, independent Veterinarian Examination, and grading by a Professional Handler and a packet of information about the care and training of GSMD puppies.  This is done so when you get your puppy, you will know everything we know about the puppy.
If you are interested in a Pup Please send e-mail to kismet Swissies at kismetswissies@aol.com. If you have not sent an application to us please do.  Application are on our web site www.Kismetswissies.com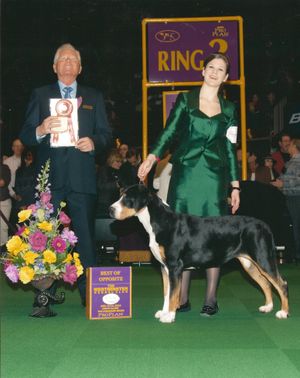 Kismet's Silver Level GCH Land's Penzance of Kismet
 

Penzie finished her Championship in 2011 with three 5 point major out of the Puppy Class.  She returned to the ring at 18 months and finished her Grand Championship in two weekends six shows all majors.  She finished 2011 as the Number 9 GSMD in breed points and Number 8 GSMD in all breed points.  Her wins include BISS at the GSMDCA Eastern Regional's, Grand Champion Select at the GSMD Nationals, and a Group 4 at the Old Dominion show.  Penzie starts 2012 with a Best of Opposite Sex at  The Westminster Kennel Club Show and a Best of Breed at the Connecticut River Working Group Show.  She was Nationally ranked again in 2012.  She left the ring in March of 2013 to start a family.  She finished with an Award of Excellence from the Eukanuba/ AKC Championships, and 5 consecutive Best of Breed wins.